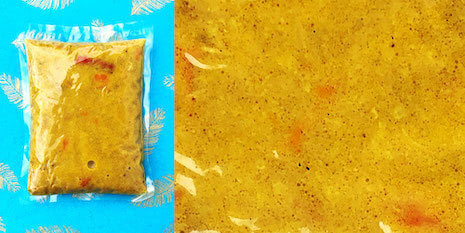 CHF 15.00
All-In-One-Curry
Classic
CH · glutenfrei · laktosefrei
Schweizer Poulet mit Blumenkohl, Karotten, Kartoffeln, Tomaten, Kokosmilch, Kurkuma, Ingwer, Zwiebeln, Knoblauch, getrocknete Chilis, Pandanblätter, Reismehl und Gewürzen.
Amount: 400g
Pungency: Medium spicy
Allergens: Mustard
Meat declaration: Switzerland
Preparation: Warm up 5 minutes in a boiling water
Preparation time: 5 minutes
Durability: At least 14 days
Durability open: Enjoy within 2-3 days
Preserve: Keep refrigerated at max. + 5 ° C
Freezable: Yes
Nutritional value: Information on the nutrients there soon
Produced in: Zürich
Availability information: All the year long
---
Order deadline – Loading...
---
Wie bereite ich einen Currybag zu?
Currybag 5 Minuten im siedenden Wasserbad aufwärmen. Im Beutel behalten die Gerichte ihren Geschmack – und du musst weniger abwaschen.
Aufschneiden und mit Reis servieren.
Alternativ kannst du Couscous servieren. Oder Weissbrot. Oder einer andere Beilage, die dir schmeckt.