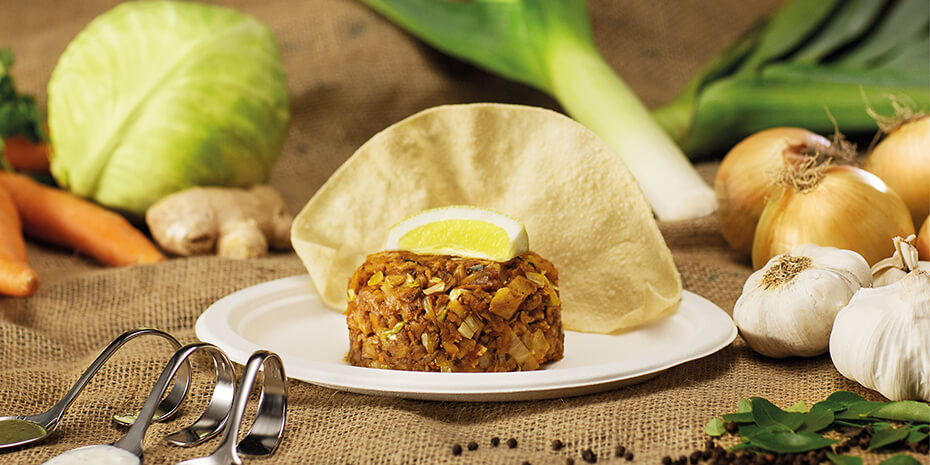 CHF 15.00
instead of

CHF 17.50
Vegan Kottu Roti
New
vegan · laktosefrei
Audiovisuelle Kulinarik mit Migrationshintergrund. Kurz Kottu Roti, was soviel bedeutet wie rhythmisch zerhacktes Fladenbrot. Das Streetfood Sri Lankas mit dem unverkennbaren Sound!
Roti (Fladenbrot), Auberginen-Curry, Zwiebeln, Kabis, Karotten, Lauch, Knoblauch, Gewürze und Rhythmus
Amount: 400g
Pungency: Medium spicy
Allergens: Cereals containing gluten, Mustard
Preparation: Sauté 5 minutes in a frying pan
Preparation time: 5 minutes
Durability: At least 7 days
Durability open: Enjoy within 1-2 days
Preserve: Keep refrigerated at max. + 5 ° C
Freezable: Yes
Nutritional value: Information on the nutrients there soon
Produced in: Zürich
Availability information: All the year long
---
Order deadline – Loading...
---
Wie mache ich ein Kottu Roti wie ein Profi?
Vegan Kottu Roti
Frying pan on the highest level of heat. (without oil)
Kottu take from the Currybag and spread in the pan
About 5 minutes fry and constantly mix
Egg Kottu Roti
Frying pan on the highest level of heat. (without oil)
Kottu take from the Currybag and spread in the pan
About 2 minutes fry and constantly mix
A hole in the middle to make and mix an egg in it
About 1 minute fry and constantly mix
Pure mix 3-4 tablespoons Auberginen-Curry
About 2 minutes fry and constantly mix
Chicken Kottu Roti (traditionell)
Frying pan on the highest level of heat. (without oil)
Kottu take from the Currybag and spread in the pan
About 2 minutes fry and constantly mix
A hole in the middle to make and mix an egg in it
About 1 minute fry and constantly mix
Pure mix 3-4 tablespoons Chicken-Curry
About 2 minutes fry and constantly mix
Lamm Kottu Roti
Frying pan on the highest level of heat. (without oil)
Kottu take from the Currybag and spread in the pan
About 2 minutes fry and constantly mix
A hole in the middle to make and mix an egg in it
About 1 minute fry and constantly mix
Pure mix 3-4 tablespoons Lamm-Curry
About 2 minutes fry and constantly mix